"It changed my life." These are words a student muttered to me after an AdoptED presentation.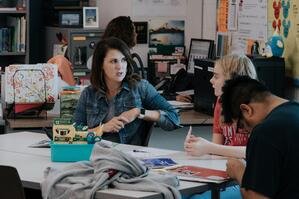 I noticed this young lady as soon as she walked into the classroom that afternoon. Her unusual boots and overall sense of style caused her to stand out, but she walked with confidence. I liked this student immediately even though she was hard to read during the presentation. Was she open to the information I was sharing with the class? Did she have a bias? Once we wrapped up with prizes, she walked over to me and I will admit I was a tad nervous about what she might say.
This seventeen-year-old girl told me she was recently adopted from Gladney and began to share her story. She talked about not knowing she was available for adoption, matching events, and foster care homes. She finally got to the part about finding her family, being one of two adopted teens in the house, and how she loves her new school and her new family. I couldn't help it. I had to ask. "So, what would you tell someone about adoption?" I will never forget the genuine look on this young woman's face when she said, "It changed my life."
I agree.